Today, it's cloudy, raining and cold! It may be the third day of spring, but it's not feeling very summer like.
We can always use the moisture, so I'm not complaining, just beach dreaming!
I am wondering if any of you are coming to the Key West Crawl with us this year?
You know we had a blast last year, and this thing is only growing and getting better.
We are now six months from the crawl, so it's time to start planning your trip to paradise with us! The specifics (So you can get time off to come with us) are:
Date: September 22, 2012
Time: 2pm-? (as long as you can make it!)
Location: Key West, FL – Duval St.
Price: $30 (includes shirt, drink specials & charity donation)
Tickets:
www.teamcocktail.com
This year, we are partying to help Reef Relief. Reef Relief is a nonprofit membership organization dedicated to improving and protecting our coral reef ecosystem with the goals of increase public awareness of the importance and value of living coral reef ecosystems and increasing scientific understanding and knowledge of living coral reef ecosystems.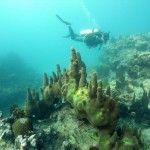 As someone who grew up SCUBA diving and studying the marine environment, I can assure you that there is plenty to learn, and the public can very easily do more harm than good, just by being uneducated.
That's why I encourage you all to stop by the Team Cocktail site and order a shirt even if you're not going to come to the crawl. A portion of the tickets and t-shirts will go directly to the Reef Relief organization.... and you'll look great while helping this worthy cause!
If you are going to be lucky enough to come along, you can look forward to partying with me and lots of other great folks at world famous bars such as:
Cork and Stogie
,
Pearl's Patio
,
Rum Bar
, Flying Monkey,
Smokin' Tuna,
Cowboy Bill's
,
Irish Kevins
,
Willie T's
,
Virgilio's
,
Kelly's Caribbean Bar & Grill,
Captain Tony's Saloon
http://www.lifeonthegulf.com/media.asp
There will be
live music
, free drinks, and plenty of fun in the sun with the beer and the rum!
I hope all of you can come along to support this great cause and have a great time!
~Cheers