What better way to enjoy a Memorial Day Weekend than with a few good cigars?
One stick that I had this weekend was a Carlos Torano, and I think you'd like it if you tried it.
Another smoke in the line of "House" cigars from
Thompson Cigar Company
, this Nicaraguan Toro checks in at 6 1/2 inches long and a ring gauge of 50.
Its maduro wrapper shines like a new penny and again, I am struck by the near perfect construction of the cigar.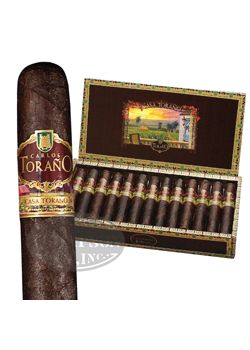 Upon setting fire to its foot, I am quite pleased with the classic maduro flavor, but a little taken with how mild it is. I normally expect a cigar that is this dark to be very full bodied and pack a power punch of flavor.
Medium strong leather and earthyness make up for the lack of punch, and will perhaps make a nice segway for smokers who are new to the extra flavor and body of a maduro wrapper.
Somewhere along the mid point of this smoke, I was pleasantly surprised to find that there is a big pack of pepper and hard wood. This smoke really picked up in the second half.
This stick can be purchased from
Thompson Cigars HERE
for $75 a box (20) and I am certain that the rest of the line is going to be just as good.
Have a great week!
~Cheers!